At the moment this is a non-comprehensive, partially annotated list of resources for food bloggers. I've been meaning to make something like this for a while, and I've decided I don't want to wait until it's "perfect" to hit publish as I think it could help aspiring food bloggers get started faster than I did. So for now, it's an unpolished work-in-progress.
Watch this space for new additions and feel free to ask if you're looking for something specific. Who knows, I might even reorganize it to spice things up. Do you feel the spontaneity?!
Disclaimer: This post contains affiliate links. That means I get a small commission if you buy products I recommend at no additional cost to you. I only recommend products I believe in from companies I believe in—either I use them myself or I've at least done thorough research and vetting. Please reach out if you have any questions or want more info!
Featured:
Food Blogger Pro is hosting a freeeeee event taking you inside Pinch of Yum's Instagram playbook! This event will mark the opening of (indefinite!) Summer enrollment for FBP, but I can tell you from experience that these evens are incredibly helpful and so not spammy. You'll get great info even if you don't join!
---
How to start a food blog & support:
The basics of starting a food blog with Pinch of Yum: Start here!
Tools and resources for food bloggers, also from: Pinch of Yum's resources for food bloggers
A great placed to get started with blogging (especially food blogging!) is Food Blogger Pro. I'm a member of their awesome community, and I've learned SO much since joining. Bonus: the feeling of community in the forums and live Q&As is vital for me as someone who spends so much time at my laptop building my blog at home.
Food Blogger Pro is run by the creators of Pinch of Yum, one of the most well-known food blogs out there. Lindsay, Bjork & their FBP team are honest and generous—this isn't some make 7-figures in your first year of business clickbait. I hope you appreciate that as much as I do!
This is a paid service and you can definitely still have a food blog without it, but I can tell you from experience, having a roadmap makes things much faster and smoother.
Note: If you sign up for a yearly subscription you can get one year of access to Nutrifox, a new service that makes embedding nutrition labels in your recipe posts super-easy. 
Here's a sneak-peek at some of the video topics you can find at Food Blogger Pro.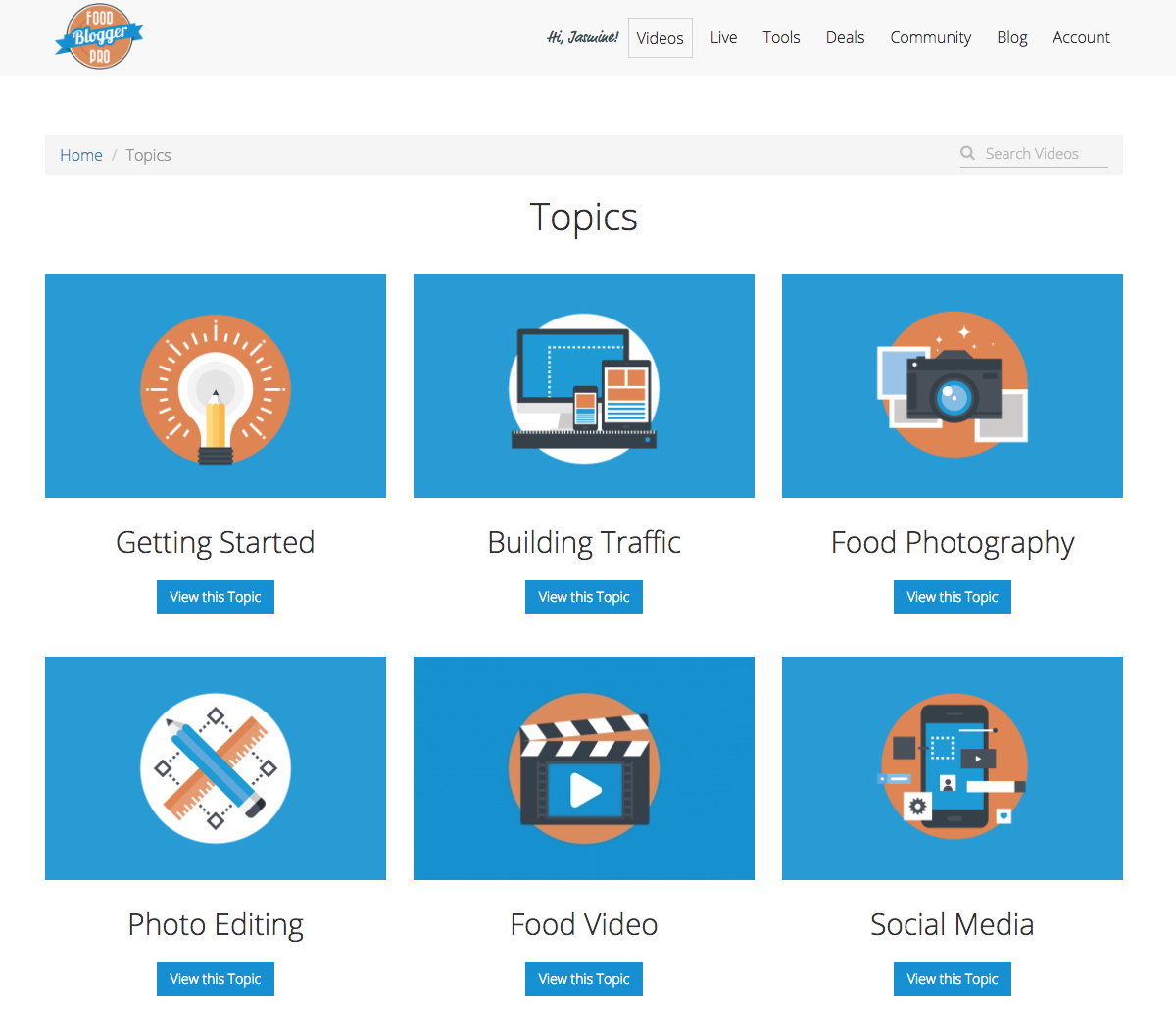 ---
Food photography:
Artificial Lighting Tips for Food Photography — Pinch of Yum
99 Food Photography Tips—Two Loves Studio
Photo Resources from Broma Bakery
How to take good pictures of food in restaurants and not look like a jerk — Bon Appétit
We shot our March magazine issue with iPhones—Bon Appétit
---
Recipe Writing
The Recipe Writer's Handbook, Revised and Updated
Rules for good recipe writing—Sharon Palmer
How to write a recipe—TheKitchn
Recipe attribution—Food Blog Alliance
---
Food writing:
How I broke into food writing: advice from Tasting Table's senior editor—The Muse
Will Write for Food: The Complete Guide to Writing Cookbooks, Blogs, Memoir, Recipes, and More
Websites, coding, etc.:
Tasty Recipes: Handcrafted WordPress Plugins for Food Blogs
Nutrifox—Easy to create nutrition labels
---
Traffic building:
https://www.wptasty.com/blog/pinterest-strategy-recommendations
Increase your traffic by using food-sharing sites like Foodgawker and Tastespotting
---